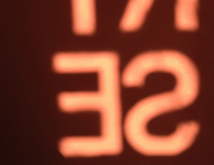 Cafe Fina (image by Hannah Mabel)
On our Facebook page, Greer McSpadden asks: Are Snow Poems comparable to rain dances?
Hannah Mabel: One thing I wanted to point out about the Snow Poems was their uncanny capability of actually conjuring snow. With amazing consistency, we would be installing, and during the reveal, we would uncover not only the poem itself, but flakes falling outside, and the tour was no exception; snow started falling at the Bataan, and covered us all the way back to the community gallery. (During the Night of Illuminaton) There appears to be some incredible strength in words and intention.
Hannah Mabel is an artist and has been a part of the Installation/Deinstallation Brigade and has led a Snow Poems Walking Tour.