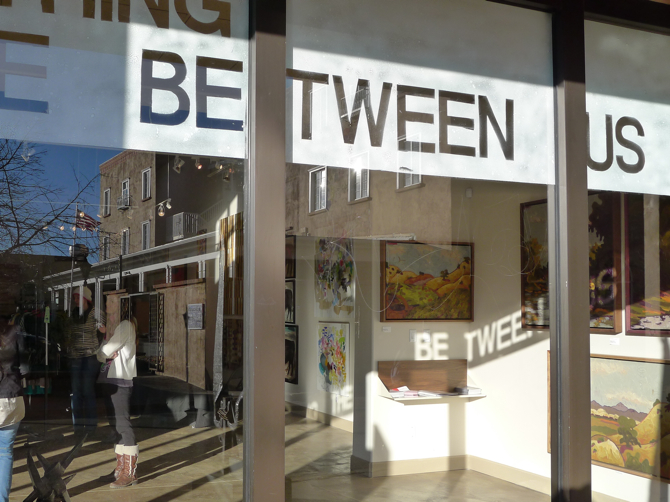 Snow Poems is a community poetry venture by Cut+Paste Society and partnering with Santa Fe Art Institute originating in Santa Fe, which explores cities as "living books" written by their inhabitants.
This winter we will be using non-toxic temporary spray snow to stencil original poetry written by community members on window fronts of businesses, government buildings, schools, and other locales around the city of Santa Fe. The project includes a printed guide map of snow poems locations that acts as a directory of the poems and authors. The project includes free public poetry workshops led by Nicholas Chiarella, Lauren Camp, Jamie Figueroa. We will be working with Atalaya Elementary School, DeVargas Middle School, and Tierra Encantada Charter School. The closing celebration will be  a "Night of Illumination" that includes a walking poetry tour downtown, music, and refreshments.
We as citizens are constantly interacting with the landscape of our cities, but we don't always consider our power to shape and define this space. Contrasting with the bombardment of advertising and public signage, public poetry offers points of stillness, and provides a venue for exploring and discussing how we humanly inhabit our own cities. Snow poems happen in the dead of winter, a season for the incubation of ideas and are washed away in time for the arrival of spring.
We hope the process of writing, reading, and experiencing the poems jars us into reconnection with what is important and meaningful. By providing free poetry workshops, we expect to spark meaningful conversation and collaboration. Citizens become the authors of their own living books: cities become public records of human emotion and experience.
The project begins with Santa Fe and we hope for it to spread to other cities.
Click here to see Snow Poems / Baton Rouge, Winter 2013-13
Click here to see  Snow Poems /  Santa Fe, Winter 2012-13
Click here to see Snow Poems/ NMSA, Winter 2011-12
Click here to see Marji Gallery, Winter 2011-12
Partnering with:

Thank-you to our sponsors: