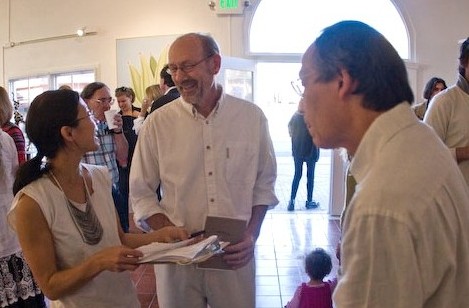 On a spring-like December Sunday, poets, dressed in white, read poems on snow. Poets rocked the full house at Marji Gallery & Contemporary Projects, thus opening this season's Snow Poems. The Poetry Storm highlighted the afternoon, and refreshments included homemade cookies by Cut+Paste Society members and interns. We hope you will return to see the Snow Poems exhibition of digital prints which continues through the end of December. Sales of these limited edition prints  fund Snow Poems 2013.
Sunday's program:
Pt. 1
Miriam Sagan
Monika Cassel
Elizabeth Lende
Nicholas Chiarella
Dana Levin
Kirsten Mundt
Joan Logghe
Pt. 2
Jon Davis
Jamie Figueroa
Henry Shukman
Elizabeth Jacobson
Gabe Gomez
Michelle Laflamme-Childs
Arthur Sze
Thank-you to everyone for making this a beautiful celebration.
Thank-you for your contributions.
If you did not get a chance to make a donation on Sunday, please consider making one here.
(images by Katie Macaulay)