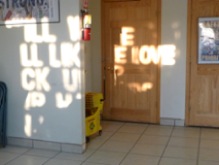 People are talking about Snow Poems while  out and about, in the grocery store, in classrooms, and even at the hot springs in Montezuma where I bumped into a couple visiting from Denver. Students from Santa Fe University of Art and Design wrote about Snow Poems:
One.
One thought.
One feeling.
One expression.
One breath.
Together as one, many were made.
Many were created.
Many were felt.
One leads to many. As many can lead to One.
One idea. Many emotions.
Where do the words lie within your heart?
Do they lie in one or many or none?
One creation as a whole.
Many beauties to behold.
One community.
Many takes.
Snow Poems shed light and color on
One's heart.
One but many together at start.
One.
Daeja Jackson
…It feels isolating constantly moving through intensely emotional and abstract thoughts. On the whole, they are not comfortable conversation topics. So, to look up in a new city and see simple nods (as these poems) that so many other minds are paralleling my thoughts, it has given a bit of courage and comfort to someone new and alone in a city.
Nouel Riel