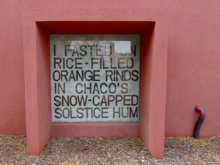 SFUAD, poem by Nicholas Chiarella
I like sitting in the Thaw room when the sun is going down. The poem projects onto the painting on the opposite wall and the frosting on the window makes me feel like I'm sitting in a kind of snow fort; a protective warm place away from the cold of outside.
Erin Haldane, SFUAD
…I was really annoyed by the beginning of the winter until I read "Tell me, this may be what sleep is like." And in that second I stopped all my thinking. I was surprised, I wasn't sure what it meant or what the exact purpose was, but suddenly I started looking at snow and cold mornings as something warm.
Diana E. Padilla, SFUAD